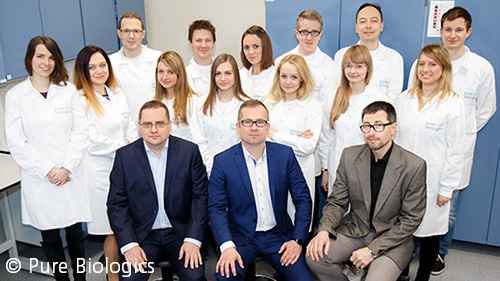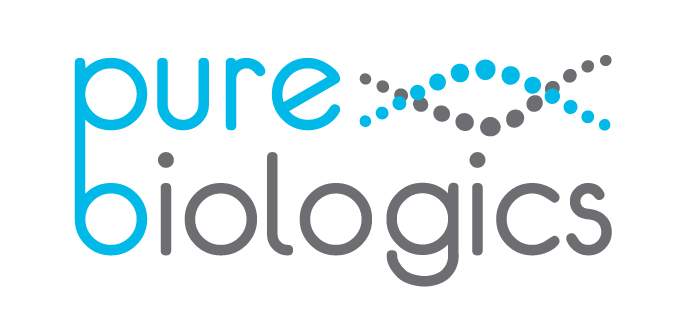 Brief Company Profil
Pure Biologics is a specialized CMO&CRO with expertise on protein engineering and efficient production of difficult to express proteins, as well as methods for the selection of recombinant antibodies through Phage Display, for biomedical and diagnostic use. The company's technologies are supported by extensive R&D activities and the unique in-house expertise and know-how of the company.
We have a good track record of successful generation and formulation of recombinant proteins and antibodies at their discovery stage (PureFold™, PurePerformance™) as drug candidates for preclinical studies, antigens and research tools. Together with detailed biophysical characterization of biologics and custom assay development abilities, we serve our numerous collaborators not only as a service provider, but primarily as a professional think tank and R&D partner solving complex protein related problems.
Products/Services
PurePerformance™ - A recombinant protein production capability that delivers high bioequivalence.
The company provides a complete gene-to-protein service. Starting from sequence optimization and vector construction, through biomass production (using both bacterial and mammalian expression platforms), to delivering pure protein products.
PureSelect™ - A human recombinant monoclonal antibody selection platform against custom molecular targets, including whole cells. Currently, most antibodies used in biomedical research and biotherapeutic applications are obtained by in vivo immunization of animals and subsequent selection utilizing hybridoma screening technology. The antibodies obtained in this way need to be further 'humanized' in order to be safely used in clinical studies. Our proprietary technology allows for in vitro selection of high-affinity human recombinant antibodies against practically any custom antigen, including whole-cell immunization, without the need for subsequent humanization. Following the primary selection of interacting clones, an affinity maturation library can be constructed to further enhance antigen-binding affinity. Finally, the selected antibody fragments can be converted (using recombinant DNA technology) into the other antibody formats, including: full IgG molecule, Fab or scFv dimer, and further chemically functionalized to give rise to a drug lead candidate, for example, an antibody drug conjugate (ADC), or molecular diagnostic tool, such as a fluorescent labeled probe. The technology also allows for bi-specific antibodies development.
Both PureSelect™ and PurePerformance™ have been successfully used in numerous projects. For example, we have been able to develop the fluorescently labeled antibody that specifically discriminated between drug-sensitive and drug-insensitive leukemia cells, which is now being used by our client as a diagnostic tool. Currently our solution is under revision for patent application.
PureFold™ - In cases where the overexpressed protein is produced in insoluble form as inclusion bodies, lacking its native structure and desired biological activity, the company has unique expertise in protein refolding. Pure Biologics has a proven track-record for successfully producing proteins with high bioequivalence. Additionally, it offers its own high-throughput screening platform utilizing proprietary conditions for successful refolding of proteins from inclusion bodies, to give rise to biologically active macromolecules.
PureAnalytics™ - As part of the company's focus on product quality and biological function, Pure Biologics offers a comprehensive range of bioanalytical protein characterization methods, including mass spectrometry measurements (MS and MS/MS), Dynamic Light Scattering (DLS) aggregation analysis, structural studies by Circular Dichroism analysis, analytical size-exclusion chromatography (SEC), thermodynamic stability determinations (CD, fluorescence and DSC calorimetry), Biacore surface plasmon resonance (SPR), and ELISA. The company is therefore uniquely positioned to be able to offer its clients an unparalleled service with respect to bioequivalence testing and biophysical characterization.
Assay Development
We are able to offer a comprehensive assay development service, supported by a whole array of techniques to acquire meaningful kinetic and biophysical data concerning protein-protein and protein-ligand interactions (ka, kd, KD, Ki, n, Bmax, dH, dS,) by BIAcore SPR, ITC calorimetry, fluorescence intensity, fluorescence polarization, UV spectroscopy and co-immunoprecipitation.
Uniqueness
Unique Selling Points of Pure Biologics are:
Exclusive performance on solving complex recombinant protein development and analysis problems;
Short turn-around times in obtaining strong binding and specific antibodies for a vast array of applications including drug lead testing, diagnostic tests development and/or as molecular tools used in research;
Delivery of high-quality homogenous recombinant proteins with high bioequivalence for basic research and preclinical studies;
Ability to combine a powerful array of analytical techniques and methodologies for development and validation of binding assays;
A policy of sharing the risk of contract research projects based upon staged fee-payments upon successful completion of individual project phases;
ISO 17025 compliant contract research services on protein engineering and production, assay development, recombinant antibody selection and production.
Memberships
biosaxony e.V.
BIO Deutschland
We need
Business partners we are seeking:
Pharmaceutical and biotech companies with R&D programs on biologics and innovative drug development, interested in outsourcing protein engineering, optimization, formulation and conjugation or gram scale production of proteins;
Research-intense SMEs and Academic labs developing or utilizing, proteins or antibodies;
Entities working on assay development (e.g. for diagnostic tests) seeking custom solutions involving proteins/antibodies, interaction studies, process optimization
Collaborative industrial and academic partners to participate in both large national and international R&D projects (e.g. EU Horizon 2020 framework).
Other
Internal R&D
Development of antibody-based diagnostics of urological cancers;
Development of diagnostic tests for veterinary medicine;
New aptamer discovery platform development.
Year of Founding: 2010
Number of Employees: 15
Upcoming event: ProteinCamp - 19th May 2016 @ Berlin
Contact Details
Pure Biologics, Ltd.
Dr Filip Jelen
filip@purebiologics.com

Headquarter
Dunska 11
54-427 Wroclaw, Poland
phone: +48 570 00 2829
email: info@purebiologics.com

German Branch
Rudower Chaussee 29
12489 Berlin
phone: +49 30 208 475 89
email: berlin@purebiologics.com

Web: www.purebiologics.com
Social Media: https://www.facebook.com/PureBiologics/