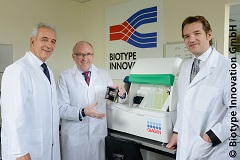 Hilden and Hellerau, Germany, June 26, 2015 – QIAGEN and Biotype Diagnostic GmbH today announced that they have entered into a partnership to establish Biotype Innovation GmbH ("Biotype Innovation").
The new company will develop and commercialize molecular diagnostic workflows initially for personalized healthcare applications based on QIAGEN's proprietary ModaPlex platform, which enables customers to detect, characterize and measure up to 100 parameters simultaneously in a cost-effective and rapid manner.
The diagnostic assays developed by the Biotype Innovation are expected to add to the assay menu of the ModaPlex platform especially in the market for companion diagnostics, which are used to guide drug treatments.
"We are very pleased to join forces with Biotype. This partnership enables us to expand the menu of our unique ModaPlex platform, offer assay development services for pharma companies and thereby expand our leadership in companion diagnostics," said Peer Schatz, CEO of QIAGEN. "As a long-standing partner with an unparalleled expertise in molecular analysis, Biotype is the natural partner for us."
QIAGEN will contribute technology and access to its global commercialization engine to the joint venture, while Biotype Diagnostic GmbH will contribute know-how, assay development resources, and its scientific network. QIAGEN will have worldwide distribution rights for the assays, while Biotype Diagnostics will have co-distribution rights for Germany, Austria and Switzerland.
Financial details have not been disclosed.
The partnership, structured as a joint venture, will have its head office based in Hellerau, Dresden, in newly refurbished facilities on the Campus of the Biotype Diagnostic GmbH. "The proximity will allow both companies to leverage synergies and share facilities where necessary", says Dr. Wilhelm Zörgiebel, CEO of Biotype Diagnostics.
Biotype Innovation GmbH is expected to be fully operational by the 3rd quarter of 2015.
About QIAGEN
QIAGEN N.V., a Netherlands-based holding company, is the leading global provider of Sample to Insight solutions to transform biological materials into valuable molecular insights. QIAGEN sample technologies isolate and process DNA, RNA and proteins from blood, tissue and other materials. Assay technologies make these biomolecules visible and ready for analysis. Bioinformatics software and knowledge bases interpret data to report relevant, actionable insights. Automation solutions tie these together in seamless and cost-effective molecular testing workflows. QIAGEN provides these workflows to more than 500,000 customers around the world in Molecular Diagnostics (human healthcare), Applied Testing (forensics, veterinary testing and food safety), Pharma (pharmaceutical and biotechnology companies) and Academia (life sciences research). As of March 31, 2015, QIAGEN employed approximately 4,300 people in over 35 locations worldwide. Further information can be found at www.qiagen.com.
About Biotype Diagnostic GmbH
Biotype Diagnostic is a Dresden biotechnology enterprise with more than a decade of experience in the development, production, verification and marketing of testing systems in the field of DNA analytics. The molecular genetic solutions offered by Biotype Diagnostic set new standards in multi-parameter diagnostics and help to clarify medical questions at a genetic level. With a staff of 30, Biotype Diagnostic employs 18 in research and development. Further information can be found at www.biotype.de.
Quelle: Press Release Qiagen and Biotype Diagnostic GmbH, 26.06.2015