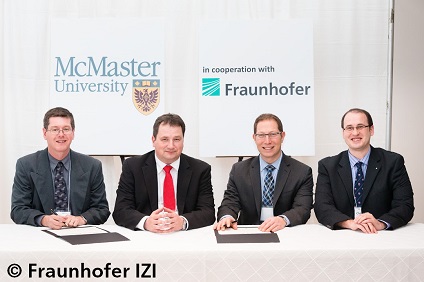 A delegation from Germany's Fraunhofer-Gesellschaft, Fraunhofer IZI, and the City of Leipzig, Germany, met with officials from the Province of Ontario, the City of Hamilton, and McMaster University to mark the partnership between the University and Fraunhofer.
On January 19 a German delegation visited Hamilton. The guests from Germany came to Canada to celebrate and discuss the establishment of BEAM – the Fraunhofer Project Centre for Biomedical Engineering and Advanced Manufacturing at McMaster University. After meetings with the City of Hamilton, provincial, and university officials, the guests in the afternoon took part in a festive event at the Art Gallery in Hamilton. More than 60 industry, government, and university representatives witnessed laudations from high-level speakers and a signing ceremony to celebrate this new Fraunhofer Project Centre, the new partnership between McMaster and Fraunhofer.
With a focus on applied research and development in life sciences and biotechnology, BEAM researchers will tackle R&D issues in regenerative medicine, cell therapies, and innovative diagnostics, through engineering and automation solutions.
Mo Elbestawi, McMaster's Vice-President of Research and International Affairs, and a driving force behind the partnership, assured the audience at the Art Gallery that partnering with such a prestigious and world-renowned organization will have an enormous impact on the City of Hamilton: »This strategic investment in Hamilton's bioeconomy will promote commercialization, draw top talent, attract venture capital funding, and grow Hamilton's reputation as the hub of health discovery«.
McMaster President, Patrick Deane, saluted Fraunhofer for its decision to develop a partnership in a community that is rooted in innovation in both advanced manufacturing and health research. »Hamilton is recognized as a global leader in manufacturing research and development and has gained international acclaim for ist work in health and life sciences research,« said Deane. »The Fraunhofer partnership will complement the kinds of initiatives in which we are already engaged and allow us to move our research into the marketplace, creating health and economic benefits for generations to come.«
Professor Alfred Gossner, Fraunhofer's Executive Vice President Finance, Controlling and Information Systems, mentioned some of the reasons for Fraunhofer's commitment to and investment in the BEAM project: »The scientific world is connected and we at Fraunhofer see BEAM as a fantastic opportunity to enrich our own portfolio and at the same time tap into the full potential of our combined Canadian and German know-how to create solutions for our society's toughest challenges in Life Science and Health Care.«
Professor Frank Emmrich, Director of Fraunhofer IZI, reminded the audience that this partnership was a long time in the making and was built on the strength of McMaster's research reputation and synergies between the two organizations: »If two strong partners come together, chances are good that breakthrough solutions in our target research fields will be found, i.e. automation of diagnostic and novel therapeutic procedures.«
Both Minister Ted McMeekin and Mayor Fred Eisenberger reconfirmed their respective government's support for the project, noting that McMaster's ability to develop global partnerships brings health and economic benefits for the people. »Just imagine the fears that will dissipate when we solve the riddle of Alzheimer's; the tears that will be shed when we find a cure for diabetes; and the cheers proclaimed around the world when we eradicate cancer, « said McMeekin. »We can only do that through good quality health research and innovation and this is what this is all about.«
Mayor Eisenberger called the partnership between McMaster University and Fraunhofer IZI an excellent example of how various levels of governments can work together with their university partners to capitalize on knowledge-driven economic opportunities. »We have every expectation that BEAM will serve as a magnet, drawing like-minded industries to our city,« he said.
BEAM has already attracted C$8 million in funding, split equally between the city and the province.
The management tasks within BEAM will be taken over by a Canadian-German team of experts. Jonathan Bramson, professor of pathology and molecular medicine and Canada Research Chair in Translational Cancer Immunology at McMaster, will serve as managing director along with Thomas Tradler, Head of Business Development from Fraunhofer IZI. McMaster professor of chemistry and chemical biology and Canada Research Chair in Bioanalytical Chemistry and Biointerfaces, John Brennan, along with Fraunhofer IZI's head of immunotherapy and oncology unit, Christopher Oelkrug, have been named directors.
The newly named managing directors shared their thanks and excitement for the project. Tradler acknowledged the many partners who have been involved over the years that have been critical to the success of the Project Centre. »When we began investigating Canadian partnership opportunities in 2011, the Canadian Embassy in Germany played a significant role in helping to identify the important players,« he said. »They continued to play a role as the McMaster project proceeded and helped us to meet important milestones along with many other partners including Fraunhofer, the City of the Hamilton and the Province of Ontario. We thank them all and recognize their contributions to this exciting project.«
Bramson is excited at the commercialization prospects of BEAM, which he describes as a catalyst in the development of innovative products and technologies for personalized medicine. »BEAM will be open to the entire research community and we certainly have an expectation that in the next say, five years, we'll have a number of new partners at the table, with a couple of spin-off companies well on their way,« he said, noting that BEAM has already attracted the attention of more than a dozen industrial partners in Canada and Germany.
Quick facts about BEAM (Fraunhofer Project Centre for Biomedical Engineering and Advanced Manufacturing at McMaster University):
20,000 sq. ft. state-of-the-art research facility, slated to open at McMaster Innovation Park in 2016
Represents the nucleus of a new industry with the potential for development partnerships with industry and the birth of spin-off companies to commercialize new technologies

Will conduct applied research in cell therapy R&D, diagnostics development, novel biomaterials and advanced manufacturing methods/automation

Already started development projects focus, amongst others, on cutting-edge biosensor technologies, enabling real-time monitoring for the cell production processes as well as large-scale manufacturing for biosensors what will provide secondary platform for business development in the area of point-of-care diagnostics
BEAM Management Team:
Dr. Thomas Tradler, MBA, BEAM Managing Director, Head of Business Development, Fraunhofer IZI
Dr. Jonathan Bramson, BEAM Managing Director, Professor of Pathology & Molecular Medicine, McMaster University

MSc. Christopher Oelkrug, BEAM Director, Head of Immunotherapy/Oncology Research Group, Fraunhofer IZI

Dr. John Brennan, BEAM Director, Professor of Chemistry, McMaster University

Source: Press Release Fraunhofer-Institut für Zelltherapie und Immunologie IZI, 6th March 2015