Technology transfer and entrepreneurialism: Once again, bionection provided an excellent platform for sharing ideas and initiating collaboration in central Germany.
Held for the third time, the international technology transfer conference on 18 and 19 October at the Leopoldina National Academy of Sciences in Halle (Saale) drew some 175 participants. They spent two days debating current aspects of biotech and biomedical engineering.
bionection was accompanied by the 2016 Science Start-Up Forum organized by technology centre and incubator TGZ Halle. Thomas Wünsch, Saxony-Anhalt's State Secretary of Economic Affairs, Science and Digitalization, declared: "Through the Science Start-Up Forum and other projects, we intend to nurture the development of this excellent research location into an outstanding hotspot for scientific start-ups." "Combining bionection with the Science Start-Up Forum generated outstanding opportunities for our participants to meet key representatives from business, science and politics," emphasized André Hofmann, CEO of biosaxony e. V. "We are extremely pleased that bionection has grown into a multi-regional platform generating interdisciplinary synergies between the central German states of Saxony, Saxony-Anhalt and Thuringia."
The Bioeconomics and Drug Research panel discussions, which were opened by keynote speakers from thyssenkrupp Industrial Solutions and Thermo Fisher Scientific, the presentation on growth core BioSAM (Biological Sensor/Actuator Systems Based on Microorganisms), aspects of biomedical engineering such as the fusing of biomaterials, and the subject of bioinformatics all proved especially popular. The workshops addressing patent and commercialization strategies as well as the certification process for medical products were most informative. And the 1:1 partnering at the conference went down extremely well.
This year's conference party was held under the banner of 'Saxony-Anhalt. Start-up!'. Featuring a relaxed atmosphere and live music, the evening was used to continue networking and also talk about other matters not on the official conference programme.
Every year, biosaxony presents the bionection Technology Transfer Trophy (T³) at the conference party for the successful translation of an idea into commercialization. This time it was awarded for the validation project denovoMATRIX recently launched at B-CUBE in Dresden. T³ was sponsored for the second time by KPMG AG, which donated prize money of €1,500 and a voucher for consulting services in order to support both technology transfer and the start-up spirit.
The whole team from biosaxony would like to express their gratitude to the supporters, sponsors and exhibitors, participants, and both new and long-standing partners.
Contact and further information on bionection:
biosaxony e. V.
Project manager: Karolin Beier
Tel: + 49 351 796 5106
Email: beier@biosaxony.com
www.bionection.com

Contact and further information on the 2016 Science Start-Up Forum
TGZ Halle GmbH
Project manager: Bert-Morten Arnicke
Tel: + 49 345 55835
Email: arnicke@tgz-halle.de
www.tgz-halle.de/de/events.html
Photo: © Marco Warmuth – Representatives of different regions in central Germany: Dr Jens Hellwage (InfectoGnostics Forschungscampus Jena e. V., Thuringia), André Hofmann (biosaxony e. V., Saxony), Dr Ulf-Marten Schmieder (TGZ Halle Technologie- und Gründerzentrum Halle GmbH, Saxony-Anhalt).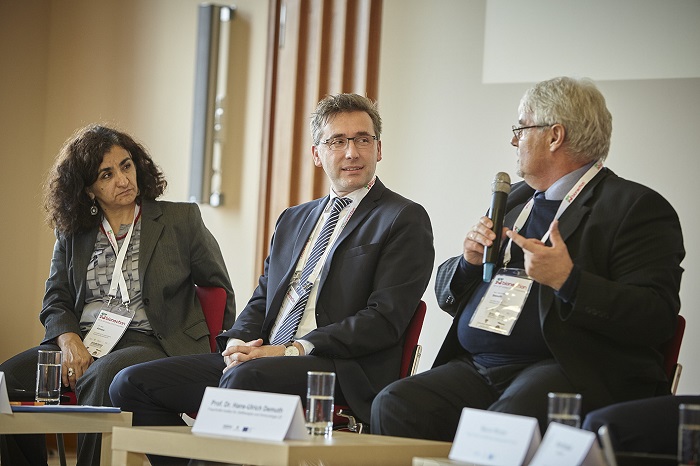 Photo: © Marco Warmuth – Panel discussion 'More science start-ups! Opportunities and challenges for Saxony-Anhalt' with Dr Atmaca Delal (isw Gesellschaft für wissenschaftliche Beratung und Dienstleistung mbH and also chair of DaMigra Umbrella Organization of Migrant Organizations), Thomas Wünsch (Saxony-Anhalt's State Secretary of Economic Affairs, Science and Digitalization), Prof. Hans-Ulrich Demuth (IZI Fraunhofer Institute for Cell Therapy and Immunology and founder of Probiodrug AG).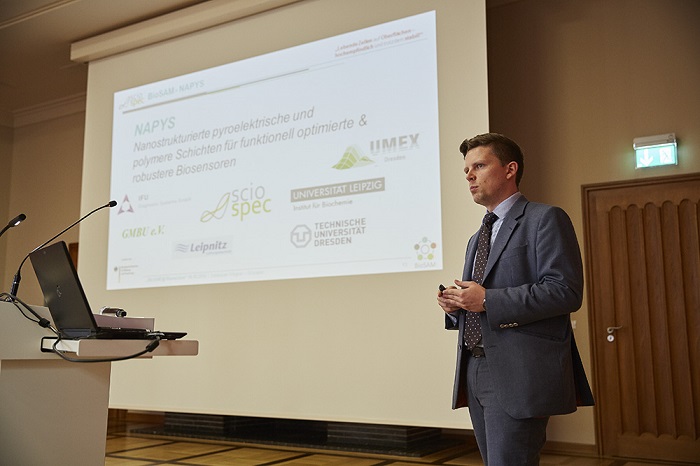 Photo: © Marco Warmuth – A special panel from BioSAM outlined its growth strategy and provided the audience with information about biological sensor-actuator systems.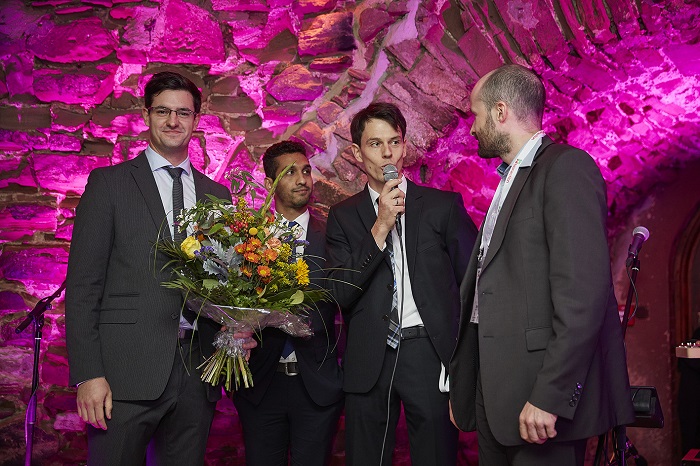 Photo: © Marco Warmuth – The bionection Technology Transfer Trophy (T³) is presented to denovoMATRIX by KPMG AG.